Board of Advisors
Bhawnesh Mathur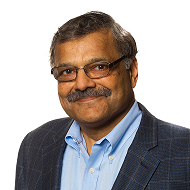 As a senior executive with over 20 years of experience, Bhawnesh Mathur has provided the insightful and pragmatic leadership for organizations to achieve their top-priority goals. Within a variety of environments, including large and complex operations, he has consistently paved the way for both immediate and long-term results through expertise, diligence, and passion.
In his most recent position as CEO of Creation Technologies, Bhawnesh held full P&L responsibility for a $670M company with 3,000 employees and 200+ industrial/medical customers. Working jointly with the Board of Directors and other senior leaders, he implemented strategies to overhaul the organization's approach from an internal to an external, customer-driven focus. Bhawnesh enabled the company to earn industry recognition, including 3 consecutive Service Excellence Awards, and achieve significant customer gains through reengineering efforts. Concurrently, he generated key cost reductions through new programs and operational consolidations.
Previously, as the CEO of Epic Technologies (currently known as NEOTech), Bhawnesh was brought in to turn around an under-performing company that was without a CEO for 3 years and projected to maintain unprofitable results. Implementing a comprehensive turnaround and growth plan, he enabled a 50% revenue increase and a concurrent 250% profit gain within 4 years, including the launch of a leading-edge manufacturing complex. Bhawnesh also contributed to the company's eventual sale prior to his departure.
In his prior position as CSCO of Arrow Electronics, Bhawnesh was hired for this newly-hired Chief Supply Chain Officer role in order to unify previously siloed organizations and functions. Leading a team comprised of the CIO and multiple VPs, he led the global deployment of a transformational Oracle ERP platform and development of its first web-based e-commerce platform. Bhawnesh created the single global IT and Supply Chain strategy that would provide a single framework for ongoing business growth.
In CSCO and EVP positions with Sanmina, Bhawnesh built a 5-year record of achievements that included creating and launching a $100M+ Logistics & Repair Services business, capturing contracts that brought in multibillion-dollar annual revenues, and facilitating a $750M inventory reduction. His contributions to Sanmina followed a long-running tenure with IBM in which he delivered breakthrough results – both through individual and team leadership efforts. Bhawnesh's early-career accomplishments established a pattern of success that he has maintained through every position and organization.
Bhawnesh's specialty is the management of complex challenges, whether those are internally or externally produced. In difficult market conditions and economic periods, he creates strategies that cause organizations to rethink their approach. Within companies struggling with internal conflicts and inefficiencies, he implements process and technology-driven solutions that influence positive change and improvement.
Bhawnesh is a highly respected executive, mentor, and coach who provides motivational, integral leadership. Fellow executives and Boards trust his judgment, partners respect his forthrightness, and subordinates hold him in high regard. Bhawnesh, in turn, views himself as a member of the team who is constantly learning and growing as a leader and professional in his field.
Bhawnesh Mathur earned his MBA from the University of Arizona and his B.Sc. in Chemical Engineering from the University of Florida. 
"6e Technologies is a highly accomplished, innovative and reliable business partner.  Many organizations and business owners have benefitted from 6e's knowledgeable team and caring and professional team members.  6e will becomes your partner and delivers to your needs from the beginning to when you're satisfied.  I'm delighted to be on the 6e BOA, and look forward to bringing their unique and talented team to help organizations solve their technical and business needs."