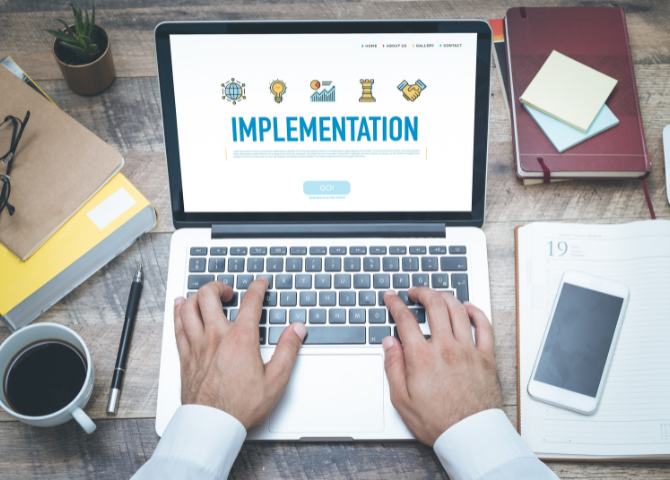 Are you planning to migrate your existing Enterprise Resource Planning (ERP) to the cloud? If you have never done this before, you might face a few issues while moving your ERP. There are uncertainties and complexities involved in this kind of software implementation. Since it involves enormous investments and of capital and other resources and can affect any aspect of business drastically, Cloud ERP implementation is considered quite a challenging task.

For ERP implementation to be successful, you need to be very careful with your planning and provisioning. Since we have years of experience in implementation, consultation, and customization of Oracle ERP cloud, we have come to know about the nitty-gritty of these ERP projects. We are offering you several factors to ensure that your ERP project is booming from the onset.
1. Include Expert Implementation Professionals
It is the most crucial decision to involve the right kind of professionals in your implementation team. Whether you have your internal team or have hired Oracle implementation partners, you need to make sure that you are contented with the methodologies that the implementation staff is using and these people are helpful.
2. ERP Implementation Methodologies
Defining the implementation approach in advance is critical. The team should acknowledge your current business processes and offer a tailored solution as per your business requirements. If you are hiring a third-party for ERP implementation, then the methodologies followed can be

Complete Service Implementation Approach
Here your Oracle implementation partners work full-time and provide hands-on services to the customers. They do all kinds of designs, application configuration, and other heavy liftings. Mostly larger organizations with complex processes go for the full-service approach.

Guided Approach
This is a short-term approach followed by companies with straight-forward and well-defined business processes. Additionally, the organizations that have resources and expertise for ERP implementation themselves take this guided approach. Here, the implementation partner is hired to render their clients with standard project flows and project management while customer conducts the system configuration.
3. Outline Your Fundamental Business Requirements
When you define your business requirements, these lay the foundation of resources and time needed for the application design as well as configuration strategies. They also help to determine the project scope and timeline.
Below are some suggestions to make sure that your requirement collection process is fruitful:
Recognize your Unique Business Requirements
Identify your business rules, logic, and hence, needs along with applications that are to be configured on the ERP to ascertain that the new software implementation support all your business processes.
Develop the consistent and comprehensive understanding of how your Oracle enterprise business suite is going to manage the standard flow of any business process and special use cases.
If the business requirements are not adequately defined, they can cause significant financial and timeline complications.
Modifications in Project Scope
During the implementation process, there are chances that the project scope might need changes. This happens mainly because of unidentified business undertakings that may occur during new business acquisitions, product line expansion, sales process or numerous other reasons. Hence, it becomes necessary to establish new strategies to handle the alterations in the scope of the project.
While analyzing the modifications in scope, budget, timeline, and quality are the three factors that are taken into account and considered most critical factors. Therefore, effective and well-defined strategies are designed to achieve the project goal efficiently.
Phased Approach to ERP Implementation
If your organization is large and areas of improvements are vast, then EPR implementation process might take a long time to cover your implementation goals. In such case, you may consider adopting the phased approach to accomplish gradual implementation.
This way you can prioritize your areas of requirement, and critical functionalities can be delivered based on their importance. It also helps you communicate your business requirements along with pending design decisions based on embraced business processes after the completion of one or more phases during implementation.
At the End to Sum Up..
Implementation of ERP cloud may be an arduous task, but by incorporating the above actions in your in your ERP implementation strategies, you can save a lot of money and efforts. An ERP consultation firm may assist you in ensuring that your ERP project is on track and migration to ERP cloud is successful and timely.