SplashBI

Self-Service Bl

Most Bl tools are just that, graphical representations of your data. But what about the transactional data in your system? Are multiple tools really the answer to the problem? What if you could get the visualizations your management needs, plus the transactional reporting your end users depend on in a single tool?
With SplashBI, you can get both! We have built out a comprehensive reporting module that allows users to easily run, modify, and create their own reports and dashboards. Have data from multiple sources? Combine it into a single report within the Splash Bl tool rather than manually through Excel. Additional features in the solution include:
Multiple Output Formats: PDF, HTML, Excel, & more
Ad Hoc Functionality
In Memory Reporting
Active Directory Support
Scheduling
Distribution    
Combine Data from Different Sources (Data Mashup)
Connectors for EBS, Taleo, PeopleSoft, and more!
Tablet, Mobile, Desktop
Microsoft Excel Front End
Interactive Dashboards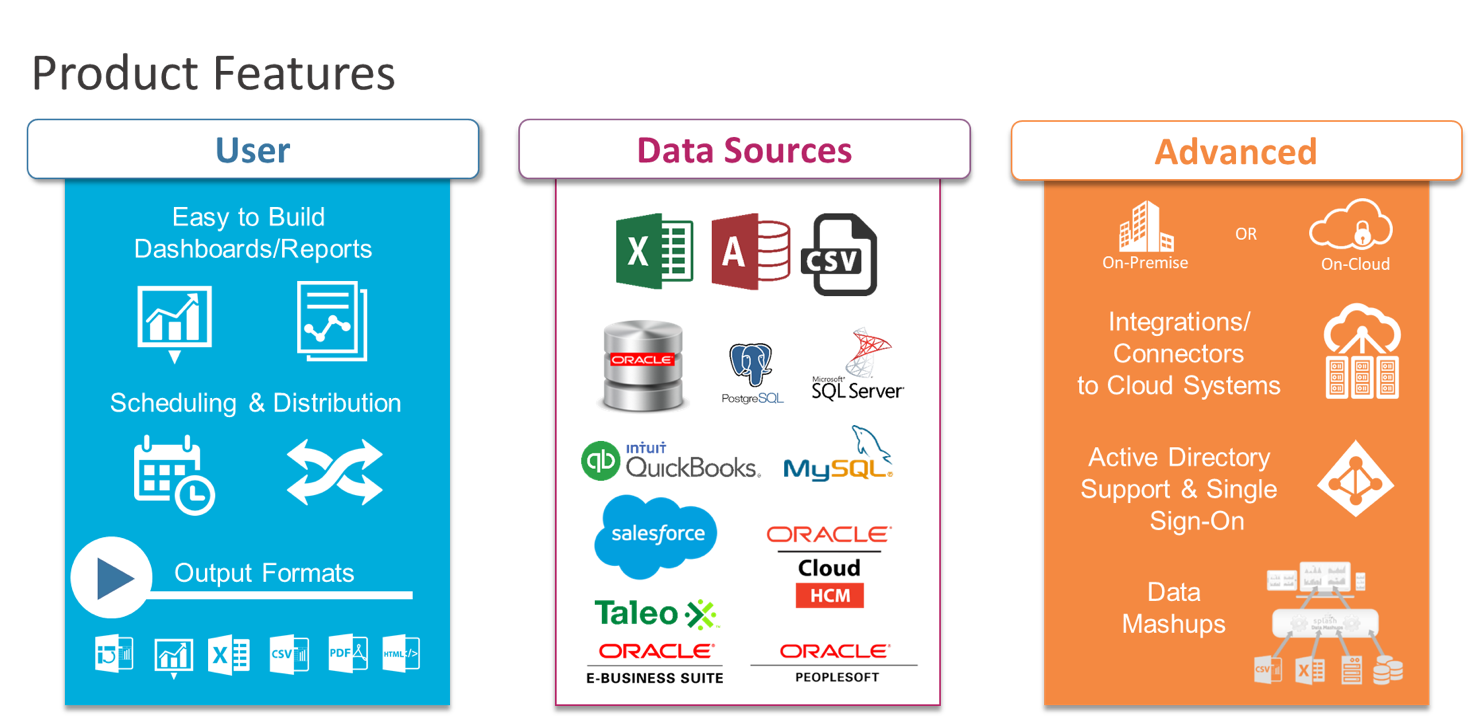 Build and Ad Hoc Reports
Reports are the cornerstone to an effective data strategy, but with most reporting solutions, it isn't something users can do themselves. With SplashBI, creating and modifying reports is as simple as drag and drop. Now, there is no need to pull in IT or have advanced SQL knowledge. The power is in the hands of the users!
Drag and Drop
Add, remove, and reorder columns
Aggregate data
Setup distributions
Modify and add pivot tables
Change column properties
Dashboards
Splash Bl Dashboards allow users to track metrics, trends, KPls, and other key data points in order to improve analysis and decision making. They allow customized combinations of charts to visually represent trends and anomalies. SplashBI has many features and functionalities to produce informative dashboards, including:
Easy drilldown on charts into report
More than 100 types of visualizations
Export as PDFs
Distribute Dashboards via email and FTP
Multi-tabular Dashboards & Charts
100% Web Based- No desktop install
SplashBI for Excel
With SplashBl's Excel Connect, users can run the reports, format and analyze, and add pivots and graphs. Easily refresh your reports as often as needed and retain all of the formatting, so that there is no need to recreate the effort!
Reports in Excel with full Ad Hoc Capability
Create graphs and pivots on your data
Refresh your data whenever you need
Schedule and Distribute
Drilldown Functionality
Create new reports as needed