Oracle E-Business Suite (EBS)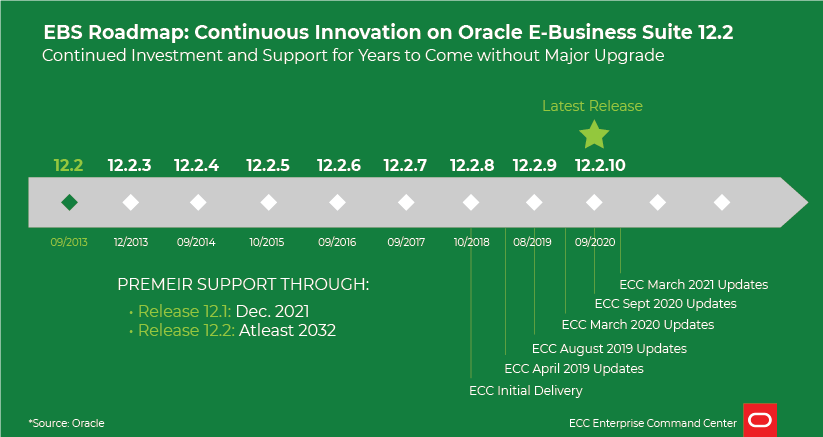 Oracle E-Business Suite (EBS) is an integrated set of business applications for automating customer relationship management (CRM), enterprise resource planning (ERP) and supply chain management (SCM) processes within organizations. It supports today's evolving business models, drives productivity, and meets the modern user's demands.
6e Technologies is committed to supporting e-business suite(EBS) clients until Oracle continues to support them. Oracle Roadmap above shows the plan for EBS support that we are keeping a close eye on. The customers who are not ready to go to the cloud yet will continue to be supported by us under the plan.
The full range of applications that makes up the Oracle E-Business Suite are:
Asset Lifecycle Management

Asset Tracking
Property Management

Customer Relationship Management (CRM)
Enterprise Resource Planning (ERP)

Financial Management
Human Capital Management
Project Portfolio Management
Financial Planning & Budgeting(Hyperion)

Procurement

Oracle Advanced Procurement
Supplier Sourcing
Contract Lifecycle Management

Product Life-cycle Management
Supply Chain Management (SCM)

Supply Chain Planning
Logistics & Transportation Management
Order Management
Price Management
Inventory Management

Manufacturing

Discrete Manufacturing
Process Manufacturing
Oracle Shopfloor Management
Within each application of EBS, there is a multitude of additional modules and solutions that make EBS a complete depth and breadth product suite for many organizations. Many of these solutions coupled together make up the flagship applications that help businesses run efficiently by improving decision-making.
Highlighting some of EBS most widely used applications:
Oracle Financials
The Financials applications include General Ledger, Cash Management, Payables, Receivables, Fixed Assets, Treasury, Property Management, Financial Analyzer, and a self-service expenses function.
Human Capital Management (HCM)
The HCM application enables companies to help manage the processes from recruiting to retiring. It allows users to view all HR activities, including recruiting, time management, training, compensation, benefits, and payroll.
Supply Chain Management (SCM)
The SCM application includes Product Lifecycle Management, Supply Chain Planning, Logistics, Order Management, and Maintenance.
We listen to customer problems and provide solutions to solve them.